July 2017
July 13-16, 2017: Readercon 28
Quincy Marriott
Quincy, MA 02169
Readercon is known for being all about the books; their dealer's room is called The Bookshop. Recently the convention has moved from Burlington, Massachusetts to Quincy, Massachusetts, so you might not recognize the location.
I'm organizing the Broad Universe rapid-fire reading (RFR), which will happen on Thursday, July 13, at 8 PM, in Salon A.
Note: Thursday night events are free and open to the public, so even if you aren't coming to the full convention, consider checking us out on Thursday anyway.
This year we'll have the following Broads reading at the RFR: Dianna Sanchez, Elizabeth Crowens, LJ Cohen, Morven Westfield (me), Randee Dawn, Tracy Townsend, and Trisha Wooldridge.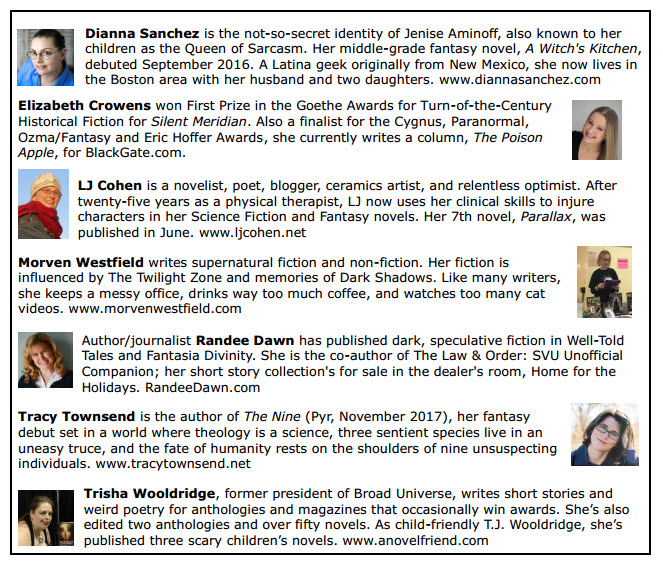 View or download a PDF version of the flyer
July 20-23, 2017: Necon 37
Baypoint Inn & Conference Center
Portsmouth, RI 02871
With two exceptions, I've been attending Necon since 2000. It's a different type of convention; only one track and only one genre (horror), but well-worth attending. They cap attendance at 200 (with the addition of some walk-ins), which makes it nice and cozy.
November 2016
Saturday, November 19
Pandemonium Books
4 Pleasant Street, Cambridge, MA 02139
7:00 PM – 9:00 PM
Come join the New England Horror Writers at the Boston area's premier SF book and game store to celebrate the release of the Wicked Witches Anthology. I'll be one of the authors reading from my contribution to the anthology. "The Witch's Apprentice" is a humorous, yet chilling, tale of what happens when an impatient neophyte decides to kick it up a notch.
October 2016
Wednesday, October 5
Derry Public Library
64 E Broadway, Derry NH 03038
6:30 PM – 8:00 PM
I'll join author Elaine Isaak and other members of Broad Universe to discuss Shelley's continued influence on the Horror and Sci-fi genre.
Mary Shelley wrote what is often considered the first science fiction novel: Frankenstein; or the Modern Prometheus. Published before Jules Verne or H. G. Wells, Shelley is often denied her seat of honor as the mother of science-fiction and as a contributor of the Gothic movement which birthed the horror genre as we know it today.
Saturday, October 29 and Sunday, October 30
Salem, Massachusetts
11:00 AM – 6:00 PM
I'll join members of New England Horror Writers at a booth somewhere in Salem as part of the madness that is Salem in October. The NEHW will be releasing a new anthology, Wicked Witches, in which I have a short story.
Details on time and exact location coming soon. All I know right now is that the pop-up is red and that we'll be there Saturday and Sunday.